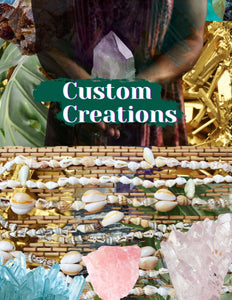 Two minds are always better than one and I would love to bring your crystal creation to life!
Consultations are up to 30 mins long . 
Waistbeads (traditional permanent waist adornments; can be made stretchy or w/lobster claw closings)

Bundle (includes: ashtray, herb grinder,tray, w/ or w/o auralite)

Bracelet sets (min. 3 bracelets) & Anklet sets (min. 3 anklets)
 All crystal jewelry orders are packed with a custom cleansing salt to transport your crystals cleansed and ready to wear.
THIS SELECTION IS FOR A CONSULTATION & DEPOSIT ONLY.  Invoice will be sent via email after consultation. Deposits are NON REFUNDABLE.